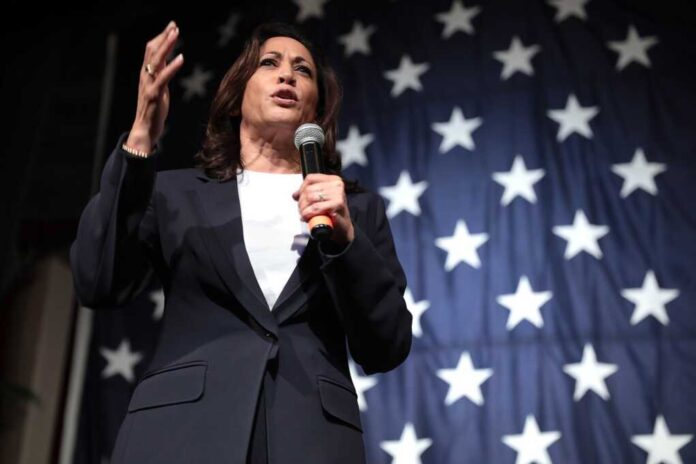 On Friday, Kamala Harris once again addressed the topic of community banks, maintaining her tendency to make repeated public declarations.
Serving as Vice President under President Biden, Harris has often been in the headlines due to her recurring public statements, which some critics describe as "verbal missteps." Her latest comments continue this narrative.
Speaking at the Sycamore & Oak retail center in Washington D.C., Harris highlighted the Biden administration's role in shaping the U.S. economy. She emphasized the importance of investing in community banks and garnered attention with her reiterated statements.
She expressed, "For a long time, we've aimed to enhance support for community banks. These banks play a pivotal role in offering loans and financial backing to small businesses, especially in underserved and disadvantaged areas, including rural communities. These banks are truly rooted in their communities."
Reacting to this, CRC advisor Bryan Doherty shared a GIF from the quirky comedy "Tim and Eric Awesome Show, Great Job!" hinting that Harris's words were an enlightening revelation to him.
Chad Gilmartin, Deputy spokesperson for Speaker Kevin McCarthy, humorously asked, "Do they also engage in banking activities?"
Columnist Derek Hunter from Townhall shared a jesting comment that echoed a well-known line from The Simpsons' character, Homer, saying, "She's truly enLIGHTened!"
Conservative communications professional, Steve Guest, simply posted, "She really said that."
The Michigan GOP sarcastically commented on her words, stating, "Another pearl of wisdom from our fearless VP," followed by a weary emoji.
Many analysts took a humorous approach to Harris's speech pattern by creating their own redundant comments.
David Blackmon, a commentator on SubStack, wittily remarked, "Going by its name, nail polish is meant for nails."
Ken Miles, an ex-radio host, humorously observed, "Did she figure this out? Grocery stores stock GROCERIES," paired with a pondering emoji.
Earlier in the week, Harris was noted for emphasizing points on "space collaboration," and in the past, she had similarly highlighted "community banks" in September of the preceding year. During a session with student leaders at Claflin University in South Carolina, she celebrated the administration's milestones.
She noted, "We've channeled an additional $12 billion into community banks, recognizing their profound connection to and understanding of the community's aspirations, strengths, and opportunities."
Watch:
Kamala Harris: "As the name suggests, community banks are in the community!" pic.twitter.com/s2ruQsX3qU

— RNC Research (@RNCResearch) August 4, 2023