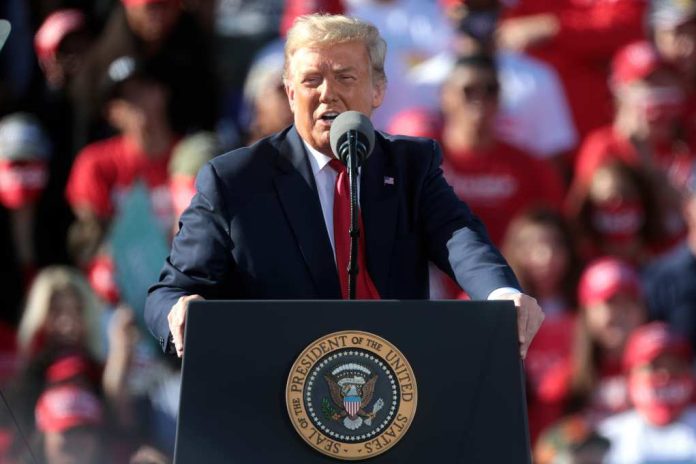 A widely circulated video shows Donald Trump appearing uncomfortably warm during a New Hampshire rally, shortly after expressing his displeasure about the room's temperature.
At the event in Windham, New Hampshire, Trump addressed the large assembly on recent legal challenges he faces, emphasizing a particular judge's recommendation against public discussion of the matter.
A clip uploaded to X, formerly known as Twitter, captures a notably overheated Trump, mentioning, "I'd like to point out to the media, it feels like 110 degrees Fahrenheit in here. Whoever's in charge of the AC, well done." After audience applause, he remarked, "However, the headlines will probably read: 'Trump appeared unwell. He was drenched.' It's around 104 or 105 degrees here, but we're managing, aren't we?"
In response to the crowd's enthusiastic agreement, Trump humorously gestured to the sweat on his suit. Another version of this video attracted over 40,000 views.
CNN reported that in another part of his extended speech—a hallmark of his rallies—Trump humorously recounted an incident where he "purposely toppled a fan" because it disturbed his hair, adding that he felt like he was "sweating buckets."
Moreover, Trump touched on the trio of legal challenges he currently faces, reiterating his unsubstantiated belief that the 2020 election, which he did not win, was unfairly manipulated against him.
Jokingly commenting on his legal situations, he quipped, "By next week, I might be facing a fourth."
Concerning the most recent case, Trump has denied any wrongdoing associated with four charges about an alleged scheme to wrongfully influence the 2020 election results.
Addressing the crowd, he declared, "Every moment of every day, I've held that the election was manipulated. It wasn't a fair election; it was dishonestly taken, and the nation ought to recognize that."
WATCH:
Trump: It's about 110 degrees in here. The press will say Trump didn't look well, he was extremely wet pic.twitter.com/4hLi9socTd

— Acyn (@Acyn) August 8, 2023