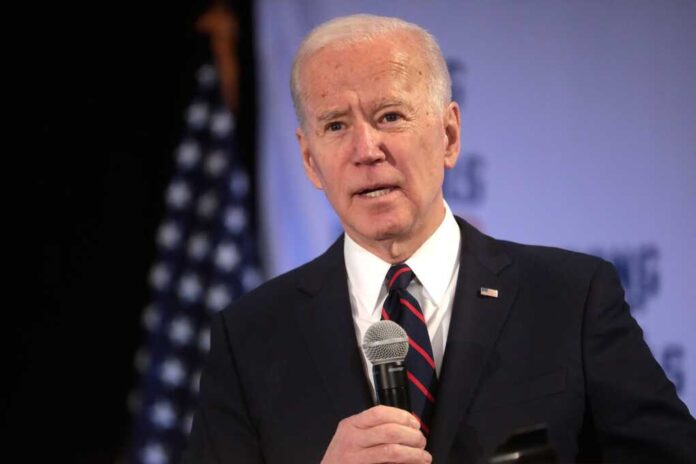 Thursday brought another stumble for 80-year-old President Biden as he tried to ascend the stairs to Air Force One, notwithstanding the use of a less intimidating, shorter staircase.
While attempting to climb the 14-step staircase of the presidential aircraft in Finland's Helsinki, the president faltered at the midway point. He managed to quickly regain his balance after appearing to brace himself for a potential fall, then proceeded to the plane's lower entryway.
Following his talks with Nordic leaders and participation in a two-day NATO conference in Lithuania, Biden gestured to spectators at Helsinki-Vantaan International Airport as Air Force One prepared for its journey back to Joint Base Andrews.
Since experiencing a significant trip at the Air Force Academy in Colorado a month ago, the president has reportedly favored a smaller staircase when boarding Air Force One. However, the White House Press Secretary, Karine Jean-Pierre, told the press last month that she had no information on how the decision on staircase preference was made.
Former presidents have also been known to use the smaller staircase when boarding the specialized Boeing 747-200B series aircraft, especially under adverse weather conditions.
This recent stumble is one in a series of at least four instances where the president has faced difficulty while attempting to climb the stairs to Air Force One. A similar incident occurred in February when Biden had trouble maintaining his balance during his return journey from an international trip in Warsaw, Poland, where he used the longer set of stairs on the plane.
In a detailed report released after Biden's yearly physical check-up, White House doctor Kevin O'Connor mentioned that the president's stiff walk could be due to multiple health factors, including substantial spinal arthritis, minor post-fracture foot arthritis, and slight sensory peripheral neuropathy in his feet.
Biden, the oldest person to serve as a U.S. President, concluded his week-long European visit on Thursday. The visit was marked by a series of faux pas, including misnaming the Icelandic Prime Minister, Katrín Jakobsdóttir, as a "daughter of Ireland", mispronouncing Ukrainian President Volodymyr Zelensky's name as "Vladimir", and missing the opening dinner of the summit, an event typically filled with significant diplomatic exchanges.
WATCH:
President Joe Biden nearly trips and falls walking up the stairs to Air Force One again. pic.twitter.com/W1cJZ58XEG

— Daily Loud (@DailyLoud) July 14, 2023