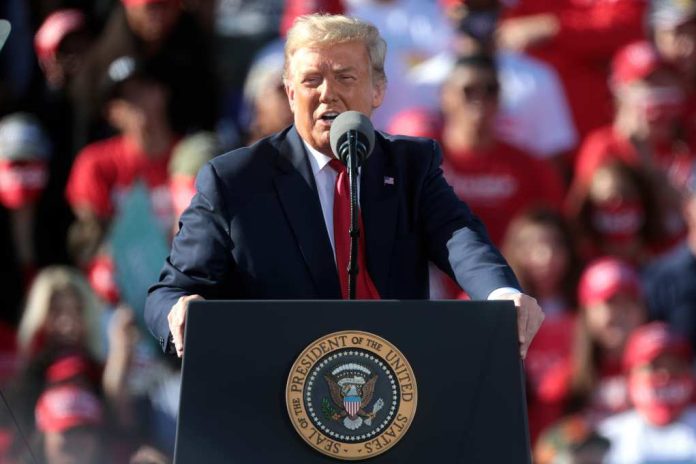 Breaking news that classified materials were discovered in a private office President Joe Biden held after serving as Vice President earned the attention of former President Donald Trump, who had one question: when will the FBI raid Biden's homes?
Taking to Truth Social after CBS News first reported on the discovery, Trump queried, "When is the FBI going to raid the many homes of Joe Biden?"
Trump then asserted that the "documents were definitely not declassified."
The former President's focus on the ramifications Biden would face — after Biden's attorneys found classified documents in an office he held at the University of Pennsylvania in Washington — comes after the FBI raided his Palm Beach home.
The classified documents were discovered in the office Biden used on the University's premises while he served as an honorary professor from 2017 to 2019.
The documents are reportedly from Biden's time as Vice President.
In his post on Truth Social, Trump references the FBI raid of Mar-a-Lago in August last year, where the bureaus found hundreds of Classified documents that have since led to an investigation into Trump's alleged mishandling of classified material.
The FBI found the trove of documents from Trump's time as the President after the National Archive suspected Trump still had more classified material in his possession.
But Trump and his allies, including his son Donald Trump Jr., emphasize the discrepancies in response to classified documents found in Biden's possession.
Retweeting the article from CBS, Donald Trump Jr. highlighted the outrage following the discovery at Mar-a-Lago and suggested "nothing will happen" in Biden's case.
Yet, most notably, Biden's team handed over the classified documents to the National Archive after they were discovered and continued cooperating with the National Archive and the DOJ.
Trump, however, failed to hand over all the documents in his possession even after numerous requests by the National Archive.