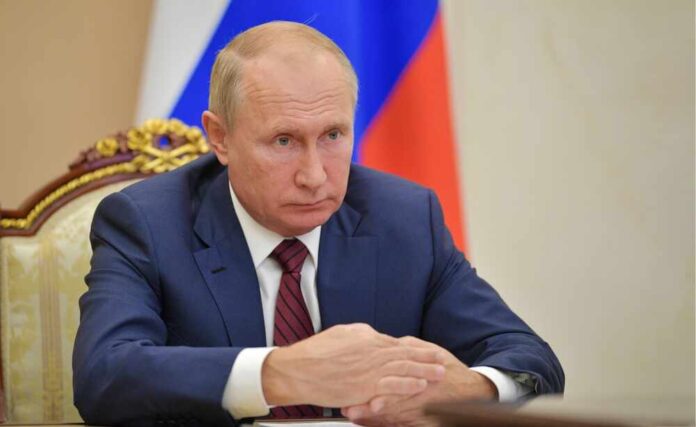 (TheIndependentStar.com) – The masks of America's enemies are now officially off as Russia's leader Vladimir Putin, a long-time ally of Communist China, is now forming an "axis of terror against the West" with the Islamic Republic of Iran and the Palestinian Islamist terrorist group Hamas.
Russia, which has been trying but failing to conquer a pro-Western Ukraine for over 600 days now, faces international condemnation for welcoming high-ranking officials from Hamas and Iran in Moscow last week, The New York Post reports.
On October 7, Hamas invaded US ally Israel from the Gaza Strip, savagely butchering over 1,400 civilians.
Moscow's decision to openly welcome the terrorist organization has led an expert to describe it as evidence of President Vladimir Putin creating a new "axis of terror against the West."
Senior Hamas leaders Bassem Naeem and Mousa Abu Marzouk were in Moscow for discussions with Russian Foreign Ministry officials.
These Hamas leaders were photographed with Russia's Deputy Foreign Minister Mikhail Bogdanov, Putin's Middle East envoy. Simultaneously, Iran's Deputy Foreign Minister, Ali Bagheri Kani, who also met with Hamas' Marzouk in Moscow, had his own discussions with Russian officials.
TASS, the Russian state news agency, reported these developments, noting the separate discussions between the Iranian official and Hamas' Marzouk.
Hamas subsequently commended Putin, who is currently involved in the Ukraine conflict, for his position on its conflict with Israel.
Meanwhile, Russia and Iran's deputy foreign ministers underscored their mutual dedication to "continue close coordination of efforts in the interests of stabilizing the situation in the Middle East."
This series of meetings raised concerns in Western circles about a potential alliance between Russia and Hamas, with Iran serving as an intermediary due to its role as a supplier of kamikaze drones to Russia and its longstanding support and funding of Hamas.
Kasra Aarabi from United Against Nuclear Iran, a US-based organization, warned that Russia and Iran were united by "hostility towards the West" and were forming "a new and looming axis of terror against the West."
"Israel sees the invitation of senior Hamas officials to Moscow as an obscene step that gives support to terrorism and legitimizes the atrocities of Hamas terrorists," Israel's Foreign Ministry wrote in a statement criticizing Putin's Russia for welcoming the Islamist terrorists.