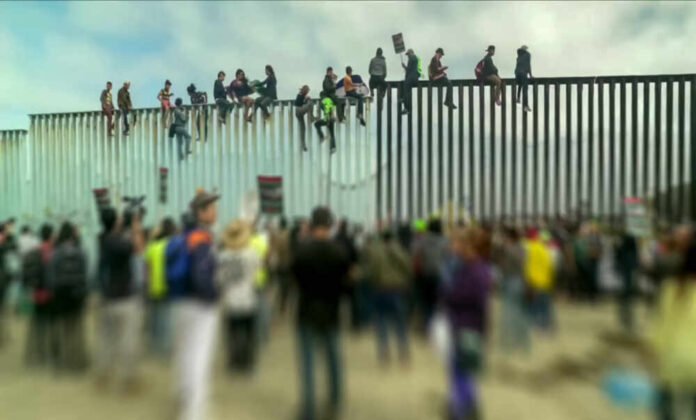 (TheIndependentStar.com) – In a perfect example of the Biden administration's seeming conspiracy to aid and abet America's illegal alien invasion, illegals have been filmed fist-bumping a Border Patrol agent after he cuts a hole in the barbed wire that was preventing them from entering the United States on the Texas border with Mexico.
Below, you can watch a video of what happened.
The fist-bumping gesture was filmed in Eagle Pass, Texas, a border town of 30,000 people, whose Democrat mayor recently declared an emergency over the massive surge in border jumpers.
The greeting between illegal immigrants and US Border Patrol officers was caught on camera by a reporter of The Daily Caller on Thursday, the news outlet reports.
It occurred after Border Patrol agents destroyed barbed wire barriers on the US bank of the Rio Grande, which had been placed there at the order of Texas' Republican Governor Greg Abbott.
The Caller's videos show the federal agency's officers cutting through the wire to apprehend a group of illegal immigrants who had managed to cross the border river.
The fist bump was thus the migrants' way of thanking the US Border Patrol for letting them into the country, the report notes.
The former acting Customs and Border Protection (CBP) Commissioner, Mark Morgan, told the news outlet that the presidency of Joe Biden was to blame for the border invasion.
"I want to be crystal clear – what's happening is not the fault of the men and women of the US Border Patrol. They have been thrust into an untenable no-win chaotic situation. Place blame for the lawlessness at our borders where it belongs – the Biden Administration," Morgan said.
"If you want to stop the invasion of people, drugs, criminals, and national security threats pouring across our borders, President Biden could do so tomorrow with a stroke of a pen! We must not fall into their trap to allow the scapegoating of the Border Patrol," the former official elaborated.
The latest CBP data shows that the US saw nearly 3 million illegal immigrant apprehensions in the 2023 fiscal year, surpassing last year's number of 2.77 million.
More than 7 million illegal immigrants have entered the United States since Joe Biden occupied the White House two-and-a-half years ago. Those include an estimated roughly 2 million gotaways.
EXCLUSIVE: Illegal Migrants Fist Bump Border Patrol After They Cut Through Abbott's Border Wirehttps://t.co/hjfo3uzi9q@DailyCaller pic.twitter.com/te7NF8cczr

— Jennie Taer (@JennieSTaer) September 28, 2023