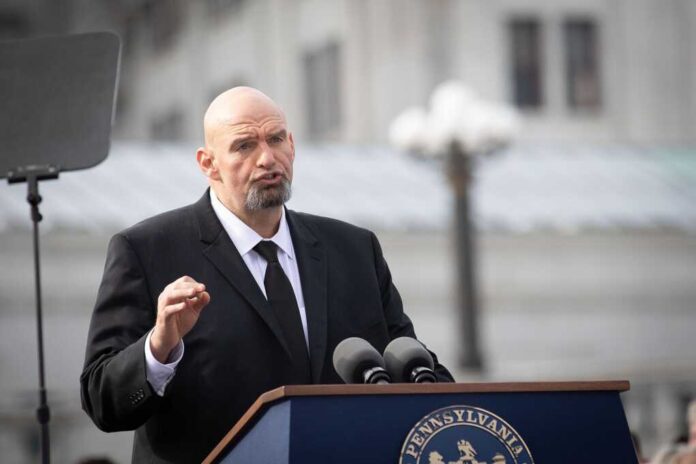 On Saturday (June 17), Democratic Sen. John Fetterman (Pa.) donned a hoodie, shorts, and sneakers at an event flanked by President Joe Biden and Pennsylvania Gov. Josh Shapiro in Philadelphia, where officials discussed Interstate-95 and ongoing reconstruction efforts.
Fetterman wore his signature attire when he met Biden at the airport after the President arrived in the state and later at an event where Biden and Shapiro spoke to Americans about the work being done to keep the highway safely open.
The outfit — a Carhartt hoodie and sports shorts with sneakers — has become the junior senator's wardrobe for formal occasions.
Fetterman was seen several times wearing similar outfits on the campaign trail last year and appeared in a similar outfit at a Senate press conference last month.
Fetterman cited Biden's accomplishments at the event, emphasizing that the President is "committed to infructure."
Fetterman explained that a "little over a year ago," he and Biden stood beside each other at a bridge that had collapsed, lauding Biden for his appearance "within just hours after that bridge collapsed there."
The Pennsylvania Senator added that at the time, Biden "promised to make sure that any resources that they needed and any help and support," adding, "and guess what? That bridge was built less than a year well, well in front of time."
Noting that he and Biden were again standing beside a collapsed bridge because Biden was there "to commit to work with the Governor" to ensure the recently collapsed bridge would be fixed quickly.
Fetterman continued, "This is a President that is committed to infructure [sic]… and… the jewel kind of a law of the infraction [sic].
As Fetterman concluded his remarks, he introduced Democratic Rep Brendan Boyle (PA.), calling him "Congressman Boyle Bile."