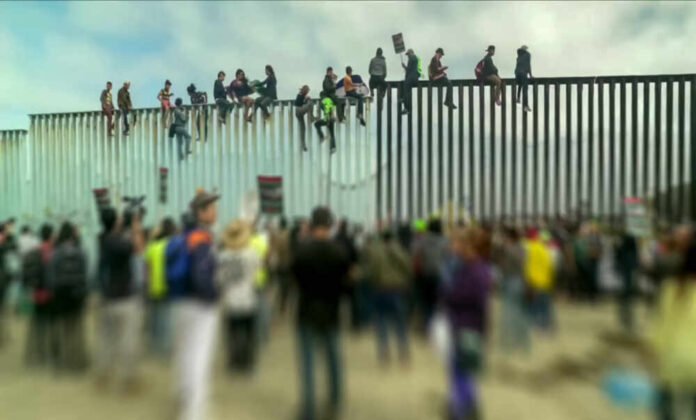 (TheIndependentStar.com) – In a bizarre reversal of President Joe Biden's aiding and abetting of a vast illegal alien invasion, the administration has resumed deportations of Venezuelans, threatening "harsh" consequences for border jumpers.
Over 7 million illegal immigrants have invaded the United States on Biden's watch, including an estimated 2 million gotaways who sneak in without arrest.
The alleged reversal of the president's de facto open border policy was announced Thursday by administration officials who said the first deportation of illegal aliens back to Venezuela would occur "in the next few days."
One senior official disclosed to reporters that a group of Venezuelan migrants had already been designated for the first deportation flight, The Washington Times reports.
"Today's announcement is a key part of our continuing efforts to strengthen the consequences that are in place at the border for migrants who cross unlawfully," the official said.
Speaking at the same press conference, Homeland Security Secretary Alejandro Mayorkas revealed the US government had secured a deal with the regime of Venezuela's President Nicolas Maduro for direct deportation flights to the South American country.
"We are a nation of immigrants, and we are a nation of laws," Mayorkas declared, as cited by CNN.
The deportation announcement followed his Wednesday's decision to accelerate the construction of parts of the wall on the US-Mexican border in Texas, waiving 26 laws for that purpose.
"The [Biden administration's] one-two punch seems intended to get a handle on the surge of illegal immigrants at the southern border," comments The Times.
The new deportation policy regarding Venezuelans will apply only to migrants who jump the border illegally between official crossings. Those who schedule their arrivals to apply for asylums will not be deported.
The Times stresses that the new policy is in marked "contrast" with Mayorkas' decision to proclaim deportation amnesty for illegal migrants from Venezuela who arrived at the border by July 31, 2023.
On September 20, the Homeland Security Secretary declared Temporary Protected Status for hundreds of thousands of Venezuelans, saying their home country wasn't safe enough.
More than 1 million illegal migrants were detained at the Southern Border from May 1 till August 31, according to Customs and Border Protection.
On Thursday, a senior official announced about 300,000 migrants had been expelled since May 12.